Sleep Coaching
The Sleep Solutions You Need for Optimal Rest and Rejuvenation.
Is Sleep Coaching Right For You?
Sleep should come naturally. Our modern lifestyles can often interfere with our natural rhythms. Do any of these resonate with you?
💭 The Midnight Ruminator: It's 2 am and thoughts are racing through your mind, keeping you awake for what feels like the umpteenth time. 
🛏 The Power-Napper: Your day feels like it is punctuated by brief moments of rest, never lasting long enough to fully recharge. 
⏰ Stress-Induced Insomnia: Work worries, personal anxieties, or the never-ending to-do list make falling asleep an exhausting ordeal.
💡 Waking Through the Night: Everything wakes you up, a distant car horn, someone moving in bed or needing to go to the bathroom – then making it difficult to fall asleep at times.
💤 Life Transition Tensions: Whether it's adjusting to a new job, experiencing hormonal changes, or coping with personal life changes, these transitions can disrupt sleep patterns and start the vicious cycle of not sleeping well.
If you recognize yourself in one or more of these descriptions, our sleep coaching could be the restorative solution you've been seeking.
Welcome to Bedtime Beginnings
We have a simple process for solving your sleep troubles, most clients see improvements within 1- 2 weeks.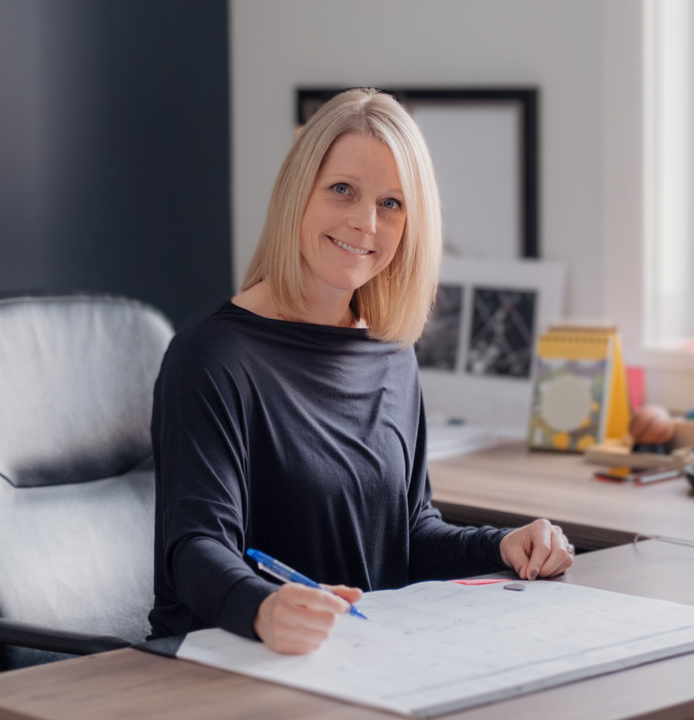 Meet Brooke
Navigating the labyrinth of sleep disturbances and fatigue, Brooke offers invaluable expertise and experience. The goal, to enhance your overall health and well-being by improving your sleep.
Brooke is a Sleep Specialist who is passionate about improving people's lives through sleep.  Since 2015, Brooke has been teaching people across the world easy ways to improve their sleep.  Through these practices many people have improved their health, happiness and overall productivity by getting a better night's sleep on a consistent basis so they can focus their energy on the things that matter in life.
People that work with Brooke are fed up with not sleeping well and dreading the nights due to the uncertainty of not getting a good sleep. Sleep is supposed to come easy, they say, but sometimes it doesn't. Being exhausted through the day trying to complete the list of things to do is frustrating; sleeping well provides the energy needed to complete the daily tasks and do the things we love!
Tailored Strategies for Your Unique Sleep Needs.  You deserve to sleep well.
Our Sleep Coaching Journey
Sleep Assessment: We explore your sleep habits, pinpoint challenges, and strategize the most effective solutions. 
Create Custom Sleep Plan

:

After our initial talk, you'll receive a

comprehensive questionnaire

upon which I will craft your plan.

Deep Dive Consultation: Next, we set up a time for our sleep consultation to dissect our tailored strategy. During this session, we'll discuss the initial steps and simple strategies, empowering you to take control of your sleep and

establish a clear plan for achieving restful nights.

On-going Support:

You will receive support during our check in calls, and through a variety of resources that are provided at necessary intervals to prevent overwhelm with any changes in the coming weeks, ensuring you feel empowered every step of the way.
What's Included in the Adult Sleep Program
A Personalized Sleep Plan, based on your sleep chronotype, current routines, habits and goals, providing a simple and practical approach.
Confidential one-hour Initial Consultation to discuss and personalize your plan.
Weekly Follow-up Calls for a month to maintain your progress and ensure accountability.
Exclusive access to a variety of customized worksheets, such as sleep logs and stress-reduction tools, ensuring sustained improvement in your sleep quality.
BONUS: Sleep Success Package inclusive of Travel Tips, Daylight Savings advice, and additional resources for enhanced sleep experiences!
Sleep better, live better.
"She was great.  I was in a really bad place due to complete burn out and had been only sleep a few hours a night.  She was compassionate and reassured me that she would be able to get me back on track.
Brooke shared with me a ton of strategies that were well outside the normal solutions found on-line.  She did a great job providing education on reasons behind my sleep troubles.
I went from sleeping only a few hours a night to now sleeping at least 7 hours nightly.  I can't remember the last time I had a sleepless night."
Why Choose Our Sleep Coaching?
Discover the path to restful nights with our comprehensive Adult Sleep Program.
💤 Personalized Approach: Everyone's sleep needs are unique. Our strategies are individually tailored to ensure the best results for you.
💤 Access to Resources: From our extensive Bedtime Beginnings' Resource Library to customized sleep logs, you'll be equipped with all the necessary tools and insights.
💤 Industry Experts: The Bedtime Beginnings offers something rare in the field of sleep; a guarantee improvement in your overall mindset on sleep and how to regain control through science and experienced support.
Curious to experience the difference firsthand?
Like many before you, discover the benefits of a solid night's sleep with our proven methods. Let's start this journey together.
I no longer have bedtime anxiety.  I am falling asleep more quickly at night and having better sleeps in general.  On the rare occasion that I have difficulty falling asleep (it's usually because I haven't given myself enough time to unwind as per our plan) I don't get upset or panicked anymore.  I follow our plan and then try again.  Also, I have to add that I really loved working with Brooke.  She was amazing!!
Frequently Asked Questions (FAQs)
What is adult sleep consulting? Adult sleep consulting is a personalized service designed to help individuals overcome sleep difficulties and achieve better sleep quality through tailored strategies and guidance from certified sleep consultants.

Why should I consider hiring an adult sleep consultant? If you are experiencing persistent sleep issues such as insomnia, irregular sleep patterns, or poor sleep quality that affect your daily life, an adult sleep consultant can provide you with a comprehensive assessment, personalized sleep plan, and ongoing support to improve your sleep health and overall well-being.

What can I expect from the consultation process? During the initial consultation, the sleep consultant will conduct a detailed assessment of your sleep history, habits, and lifestyle factors influencing your sleep. Based on this information, they will create a customized sleep plan tailored to your specific needs and goals. Regular follow-up sessions will be scheduled to track your progress and make necessary adjustments to the plan.

Do you offer virtual consultations? Yes, we offer both in-person and virtual consultations to accommodate your preferences and ensure accessibility to our services regardless of your location.

Are your consultants certified? Yes, our sleep consultants are certified professionals with extensive training and experience in the field of sleep science and behavioral sleep. They adhere to the highest standards of practice to provide you with the best possible guidance and support.

Will I be prescribed medication for my sleep issues? Our approach focuses on non-pharmacological solutions, emphasizing behavioral and lifestyle modifications, cognitive techniques, and relaxation strategies. We prioritize natural, sustainable methods to promote long-term improvements in your sleep quality and overall health.

How long does it take to see results? The timeline for noticeable improvements varies depending on individual circumstances and the complexity of your sleep issues. Many clients experience positive changes within a few weeks of implementing the recommended strategies, while others may require more time to achieve their desired sleep goals.

What are your fees and payment options? Our fees start at $295 and vary based on services and program duration. We offer flexible payment options, including package deals and installment plans. Contact us for detailed pricing and to discuss the best package for you.

Do you provide support after the consultation period? Yes, we are committed to your long-term success and offer ongoing support during our time together. We provide resources, guidance, and follow-up sessions included with our Adult Sleep Package to help you maintain healthy sleep habits and address any new challenges that may arise.

Is my information kept confidential? Yes, client confidentiality is very important to us. We adhere to strict privacy policies and regulations to ensure the confidentiality and security of your personal information and consultation records.
Please feel free to reach out to us if you have any additional questions or need further clarification. We are here to support you on your journey to better sleep and improved well-being.