With spring nearing an end, and the taste of summer being dangled in front of our noses with each passing weekend, the summer travel itch starts to well.. get really itchy.
As a parent, there is so much excitement that comes with summertime as well as a lot of anxiety around… how do we get away… enjoy ourselves… but not completely undo all our great sleep routines and structure.
Fear not, you can do both while not undoing all your hard work.
There are many different aspects of travel, but a big one with our kids is just the sleeping arrangement themselves. Although in a perfect world, it would be marvelous if each child had their own bedroom, but, we all know this is not always realistic.
If you find yourself at a hotel, cottage, friend's house… and the list goes on, where you are in the same sleeping quarters as your children, here are a few tips to ease that scenario:
Did you know a bathroom makes a perfect bedroom for a child sleeping in a playpen?
If there is more the one bathroom where you are staying, then voilà, it moonlights as a perfect bedroom. All you need to bring with you is painter's tape, black garbage bags (to black out the window), your sound machine, playpen, and camera for peace of mind.
For safety reasons, if there is a shower curtain be sure it is nowhere near your little ones' playpen. It is always a good idea to tape closed any cupboards and toilets as well! And be sure that the bathroom is well ventilated with airflow, if you are concerned the air may be a bit stagnant a fan is great to get the air moving.
No extra bathroom, no problem!
Sometimes a bathroom is just not an option, so a walk-in closet also doubles as a great sleep space for a child in a playpen. Again following the same rules as above for airflow and ventilation.
Remember, you may need to also bring along a power bar to accommodate plugging in your sound machine, camera, and fan, as many closets don't have outlets.  You can put the sound machine outside of the closet to help block noise but also prevent it from being too loud in the closet.
No walk-in closet… you can still make traveling work!
Look for a tucked away nook or corner in the room, furthest away from any light, noise, and parents/siblings bed. Use a sound machine near your baby's playpen to help drown out the sound around the room.
Keeping a schedule.
Remember, while away it is still important to honour our children's sleep needs; with the new sites, sounds, adventures and heat, sleep is more important than ever. Try to stick to your typical sleep schedules (naps and bedtime) to avoid your child having an emotional breakdown.
With this being said there is always exceptions to the rule. Sometimes naps on the go happen (that's ok of course) just remember to give your child a balance so they get in good quality naps while you're away too!  We always try to follow the 80/20 rule when needed.
Later bedtime for older children? Yep, that happens sometimes when we are away and that's ok. Again make it the exception, not the rule to ensure you find the balance while you're away so your child is getting the sleep they need to have a great vacation.
How about my older children that sleep in a bed?
If you are on vacation and you find yourself sleeping in double beds beside your children, or sleeping in the same bed as your child, your hard work is not going to be undone. Stick to your routines as best you can during the time you are away, still respecting their appropriate bedtime (but it is ok to allow for a little fun and straying from the rules once and a while).
Once you get back home, that's when the magic happens. Go right back into your regular routines and set your bedtime expectations. Remind your child that it was fun while you were away to do something different but now that you are home, remind them what their job is at bedtime. If they act up then provide them 1 warning and then a consequence so they know you mean business. Remember to remain calm and consistent, as consistency breeds consistency.
Keep it dark.
As always it is important to keep it dark for our children when sleeping. If you are going to a hotel it is safe to assume they will have black out curtains however a cottage may not. Black garbage bags will be your BEST friend. Again bring along that painters tape and turn that bright and sunny room into a cave (this will also make bedtimes easier if it appears dark!)
Ok… so a sleep space is great but if I keep to my regular schedule…what do I do from 7 pm onward after my child goes to sleep?
Try to find accommodations that have a balcony or an outdoor space attached to the room or a separate sitting area if that is possible. This will allow you to still get in your downtime, doing something you enjoy, and much-needed adult time without jeopardizing your child's sleep.
Headphones are also a great solution to allow you to watch TV or a movie on your phone or iPad, once your little down goes to sleep without waking them up.
Packing for an infant or toddler and feeling overwhelmed? We've got you covered!
Click here to access our packing lists to remove the guess work and added stress when going away!
With summer and travel also comes the change in temperature…
Not all places have the same temperature regulations. You may be used to AC but find yourself at a cottage that only has fans. This can leave us all questioning how to dress our children to ensure they are like Goldie Locks, not too hot, not too cold but just right.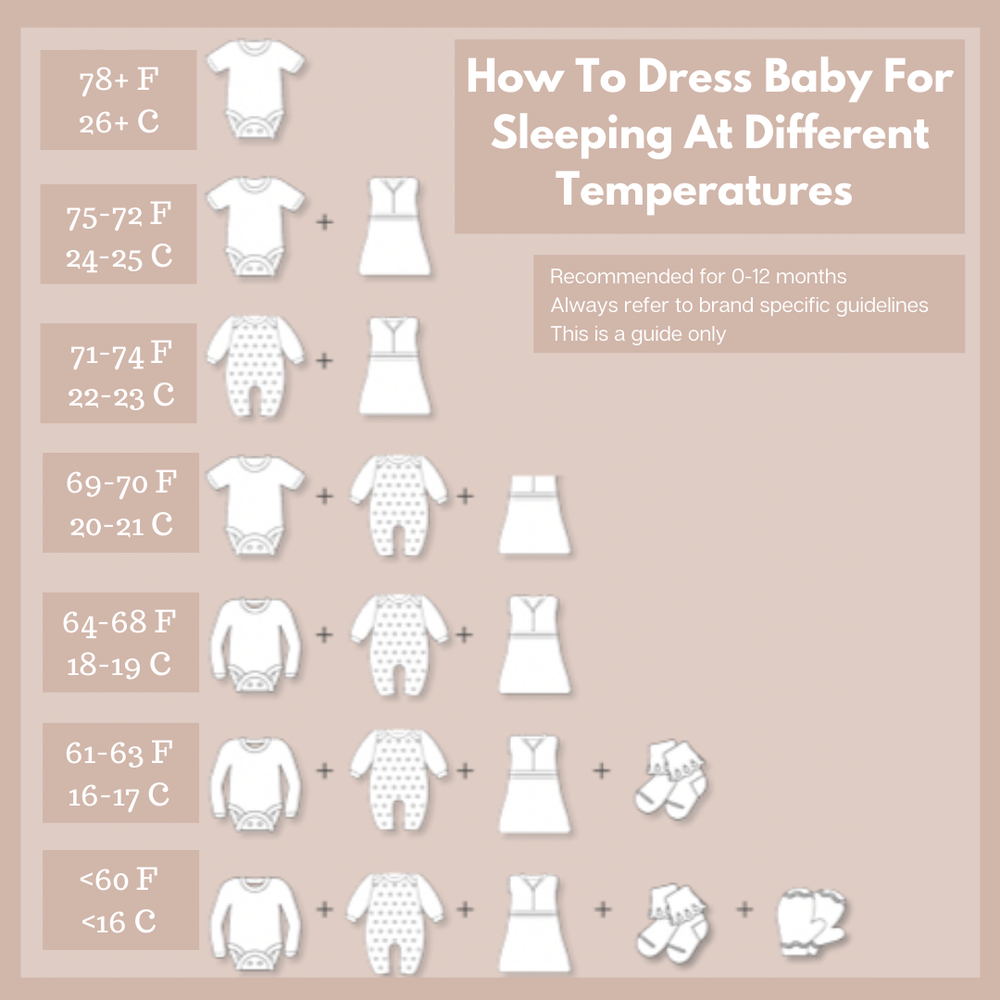 If your child is utilizing a sleep sack, check out our dressing guide to ensure they are dressed appropriately for the indoor temperature. Always be sure to refer to the specific sleep sack brand for temperature child and recommendations for pairings.
As a rule of thumb, dress them in one additional layer from what you are wearing.
If you have an older child, be sure to dress them in breathable materials to help reduce sweating. It is safe to assume if they are able to sleep in a bed, then they are able to get back under the covers if they get cold or out of them if they get too hot. Our recommendation would be to dress them similar to what you would be wearing at bedtime.
A fan can also be helpful to keep the air circulating for children of all ages.
Remember to make the memories, have the fun with your kids this summer… there is always a balance to everything… and you can do both while keeping sleep a pillar in your home.
Feeling nervous? Or need a little support on how to navigate getting things back on track when you get home? Reach out, we'd be happy to guide you through this transition. Enjoy your summer!
Bedtime Beginnings is a team of Pediatric & Adult Sleep Consultants from Southwestern Ontario, Canada. We help exhausted parents teach their infants & toddlers to sleep well every night with gentle, customized solutions and both group and private coaching options, so your family can all be at their best. Our team can support families in home and also virtually around the globe to ensure everyone is sleeping their best.
Follow us on Instagram for more tips to help you and your family get back to sleeping well each night, you deserve it.
If you haven't been sleeping well please reach out for a friendly no-obligation phone call to help you and your family get back the rest you deserve.
If you haven't been sleeping well 

please reach out for a friendly no-obligation phone call 

to help you and your family get back the rest you deserve.